After having walked for what felt like hours, Chief arrives upon a war-torn wasteland, and sees soldiers bleeding out in the distance: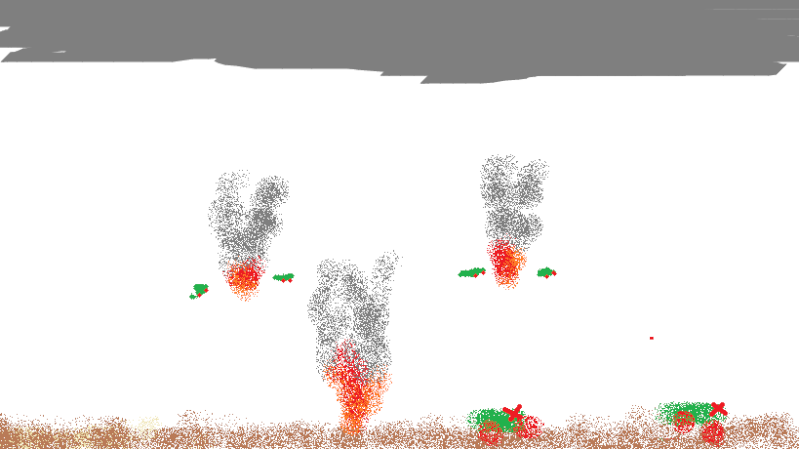 "Da hell? I go from da pondland to dis shit? I've had enough a'this..."
Walking up to the bodies, one of the boxing glove-wielding bodies moves and then says something.
"Tha king...is dead."
Coughing up red fondant, his plush neck slumps over. Chief looks up, seeing a rather silly looking battle in front of him. More of the boxingfrogs, dempsey rolling after fleeing battlefrogs that looked curiously similar to the ones that killed Gunny.
Soon afterwards, he is approached by another, able-bodied boxingfrog.
"Aye, you part'a tha rebellion?"
"Rebell'n? What's dat?"
"Against tha king's son! We's tha boxahs!"
"Ah..."
Chief adjusts his sunglasses, uncertain of how to react. The rather strangely dressed frog that Gunny shot just before dying was the king?
"Ya comin'?"
"Eh, fine. What's'ya name?"
"Call me Frogsey."
"Like Jack Frogsey?"
"Yep."
Chief sighs, confused at why a frog boxing star is participating in a rebellion that could get him killed. Shrugging his poorly-defined shoulders, he marches on behind Frogsey.
_________
_________  
The sounds of clanging and sick knockouts ring through the battlefield as Frogsey and Chief sneak around their surroundings, plastic guns popping and cracking at the boxers from behind mighty cardboard tower shields. Frog puppet bodies fly around the scene, being propelled by silly string explosions from out of screen.
"Gots ta find tha fortress. Punch out tha prince, yah mean?"
"Uh, yeah. Why kill da prince though?"
"Ain't ordered in tha new pairs a' boxin' gloves. Call it oppression, I will."
"Well, dat makes sense. I'm here lookin' for da money to replace ma fabric."
"Good on ya. We'll get dat and mo' when we do dis, ya hear?"
"'Course."
Making it to the castle of da prince, Frogsey and Chief are halted by his elite guard.
"Stop yaself there, ya boxin' heathen! This'll be tha last step ya take!"
Frogsey superman punches towards the stopsign wielding soldier, taking him down in one blow.
"Eh?"
Unsure of how to react at how simple the battle was, Frogsey and Chief just stand there for a moment in contemplation.
"Ah, well. Sad day for 'im. Let's get into the palace."
Walking into the cardboard castle, Chief and his newfound ally confront da prince.
"Oy ya prince, gimme ya stuff!"
Raising a fist, the prince responds by raising a finger.
"Ok."
"Er. What?"
"Yeah. Take it, whatever it is."
"Uh...a'ight."
Frogsey and Chief take a new pair of boxing gloves and some money, respectively. They go on their way, puzzled but also glad that they finally got their prize. As they leave the battle continues to rage on, all the soldiers still unaware that the war never had to happen in the first place.